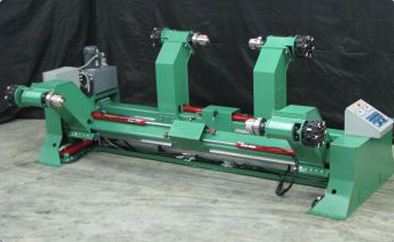 The model DU dual-position shaftless unwind is the newest addition to the Powell Engineering Inc. product line. The combination of dual roll capacity, shaftless floor pickup, and sideloading by cart are ideal for multiple webs and confined spaces. The model DU is ideal for corrugator line new installations and upgrades. Run multiple rolls simultaneously or have rolls waiting and ready to go. The machine is made in the tradition of Powell Engineering Inc.'s other equipment in that it is extremely robust and designed to be reliable through the simplicity of design. The ability to achieve low diameter pickup makes the loading or unloading of short run butt rolls a simple task. A variety of brakes and core chucks are available. The standard corrugating configuration utilizes compact design brakes and Double E brand DF-2000 torque chucks.
An overhead carry-over structure is available to transport the web downstream which may be configured with a skew roll, dancer or load cells for tension control as well as web guiding.
Sideloading via roll carts minimizes roll handling and makes the job of keeping your line up and running an easy one. Carts may be configured as simple single position side loading units.